Las Vegas' No.1 Eyebrows Threading
Beauty is our philosophy.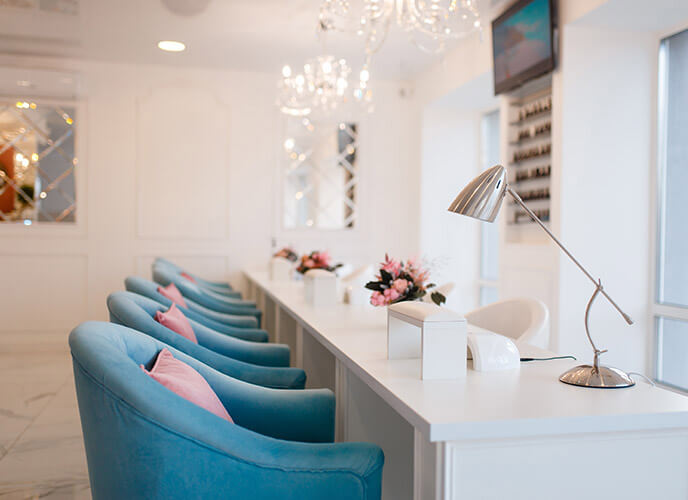 Sara's Threading is a one of the best threading services in Las Vegas. We provide high-quality and professional eyebrow shaping for men and women. Our skilled artists can create any shape desired, from thin to dramatic. Sara's Threading has been providing quality work for years and we guarantee satisfaction with every service.
Located at The Village of Centennial Springs, Sara's Salon is the uptown destination that is redefining the Eyebrows Threading salon experience.
Make an appointment and  you'll find out why we're the one everyone's talking about.
Threading-Eyebrows & Upper Lip & chin

$27

Threading - Lips and Chin

$10

Threading-Side-Burns & Upper Lip & Chin

$25
Threading-Eyebrows & Upper Lip

$22

Threading - Side-Burns

$15
Want to See More Pricing?
Venue / The environment is very clean, well decorated and always welcoming.
Sara Akrami / Sara has been doing my brows for 9 years. She is the absolute best!
Andra Tashjian / Andra is always very professional and personable. My lashes have never been better. They last for weeks. I would recommend Andra.
Sara Akrami / I've been going to Sara for a very long time and she knows exactly how I like my brows! She's so pleasant and funny and I love going to her!
Andra Tashjian / I have only had positive experiences.
Andra Tashjian / Amazing as always love you
Andra Tashjian / The very best
Gisoo . / I hadn't had my brows done professionally in years and it was about time. I am SO HAPPY with them. They look amazing, I made an appointment for 5pm but Gisoo was able to get started on me about 10 minutes early(I arrived 15 minutes early), and I watched her sanitize everything from the chair to her materials. I will be coming to her from now on.
Monique @MoDezignz Guerrero / What a wonderful experience! I was very impressed with my pedicure and the products used. Monique was very professional and friendly. It's nice to have all the attention and great service!!
Gisoo . / Gisoo is very professional, kind and detailed in perfecting my brows. She is actually the best experience I have had. So happy with my brows. Thank you!!!
Sara Akrami / Sara is the BEST!! 👏🏻👏🏻
Sara Akrami / Sara is amazing!!! My brows always looks great when she's done with them.
Threading is a hair removal technique that has been practiced for centuries. Facial hair is removed swiftly yet meticulous from the most delicate areas of your face, including eyebrows and sideburns by knotting thread to grab onto and pull out hairs at their root with precision. Unlike waxing or tweezing this method can be done easily in sensitive skin without causing pain
For centuries, women have been removing hair from their faces with threading. It's a technique that works for any skin type and allows you to remove even the finest hairs without causing pain or discomfort because it grabs at your facial epidermal layer rather than going into deeper layers where tweezers would be required. The best part about this ancient process is how much fun I had learning how!
Imagine waking up with beautifully thick and long lashes every day! At Thread, we offer a variety of services that will help you achieve this goal. Our team is highly trained in applying lash extensions ranging from individual application to reusable strip lashes — so no matter what type or how many sets you want on your eyes!, they'll be perfect for any occasion. And if darkening isn't quite working out? Fear not: We have an array of tinting options available at very affordable prices too!"
We'll help you take your lashes from basic to beautiful. We offer several types of lash extensions, including individually applied ones that are perfect for those who want long-lasting results or reusable strip lashes – which means no more individual stashes again! And don't forget our tint service; it's like getting drama free eyes all day long or whenever.
Tint your brows to perfection with a professional tint! We offer both semi-permanent dye and henna tints, so whether you want darken or cover up some grays our kits will be perfect. With colors that last from two weeks all the way up six weeks these are must have items if do not like how my natural eyebrows look in photos
Explanation: Tinting is becoming more popular as people realize they can make their face brighter without makeup by using dyes on their already existing hair color – it's basically permanent eyeliner for those who don't wear any because this looks good no matter what time of day .
At Sara's Threading, we believe that a professional and courteous tone is essential to maintaining customer satisfaction. Our facials are designed not only for the surface cleanliness of your skin but also deep below with organic cleansers and natural steam in order extract blackheads before closing pores using either an exfoliant or mask depending on what best suit you needs – all while giving relief from any redness around those sensitive areas.
I work here as well so I know how important this can be!